News
Ara Babloyan Receives Ambassador of France to Armenia
02.06.2017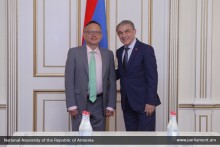 On June 2, the RA NA President received the Ambassador Extraordinary and Plenipotentiary of the Republic of France to Armenia Jean-Francois Charpentier.
Welcoming the Ambassador in the National Assembly, Ara Babloyan highlighted the further deepening of the political, economic and cultural relations with France. Underlining the role of the parliamentary diplomacy in the development of the bilateral relations, the RA NA President emphasized the formation of the Parliamentary Friendship Groups in the newly elected National Assembly and the effective work. In this context, touching upon the relations existing between Armenia and neighbouring countries, the RA NA President noted: "I think that parliamentary diplomacy supposes sincerity: it is not a classical diplomacy. Today, the world highly appreciates the countries, which developing themselves, promote the advancement of civilization and democracy, rather than create problems for the world. Armenia also strives to have its contribution to the progress of civilization guided by the principles of democracy."
In this context, the RA NA President highlighted the steps taken in the direction of democracy, freedom of speech, protection of human rights in Armenia.
Regarding the NK issue, Ara Babloyan has expressed his gratitude to France for its position and documented that Armenia has a distinct position: the issue should be solved through peaceful negotiations. In the RA NA President's word, today Armenia is an exemplary country for many countries as a state providing security guarantees.
Jean-Francois Charpentier began his talk with the RA NA President in Armenian and thanked him for the reception. Referring to the parliamentary diplomacy, the Ambassador noted that during his long-years' activities he has not come across more active, energetic, sincere Friendship Groups like the Friendship Groups created between Armenia and France. The Ambassador of France expressed his readiness to further develop and deepen the relations between the parliaments of France and Armenia, facilitate the Armenian parliamentarians' contacts on international platforms. He has noted that Armenia has a number of trumps in its arsenal for further developing the country.
Jean-Francois Charpentier underlined the importance of modernizing France-Armenia relations, activating the trade-economic contacts and giving a new breath to Francophonie in Armenia.
At the end of the meeting, the interlocutors talked about the creation and development of the French educational institutions, the deepening of political dialogue and a number of issues concerning the boosting of cooperation between the Francophone countries.