News
Prime Minister Meets Georgian First Deputy Prime Minister
10.06.2017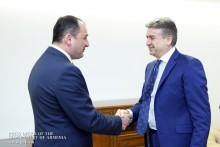 Prime Minister Karen Karapetyan met today with the First Deputy Prime Minister, Minister of Finance Dimitri Kumsishvili-led Georgian delegation in attendance of the annual meeting of the Belgium and the Netherlands-led subgroup of International Monetary Fund and World Bank, which is being held in Dilijan.
The Armenian Prime Minister and the First Deputy Prime Minister of Georgia discussed the agenda of bilateral relations, including economic cooperation-related issues, in particular.
Appreciative of the progress in the implementation of the ongoing joint programs, Karen Karapetyan and Dimitri Kumsishvili discussed the steps to take ahead. They noted that the commodity turnover between Armenia and Georgia has been steadily growing in recent months, and that consistent efforts should be made to uphold and boost this trend.
The interlocutors reaffirmed their mutual readiness to continue endeavoring towards the promotion of cooperation between the business circles, attracting investments, collaborating in the frame of free trade zones and in the field of tourism, strengthening cultural ties etc.