News
The final is approaching
13.11.2017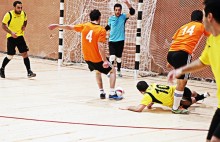 In the beginning of November at the new sport hall of Yerevan State University the futsal championship was held within the framework of RPA 15th traditional sport games program. Teams of 6 RPA regional organizations, as well as 8 Yerevan territorial organizations participated in the event.
Semifinal games between Malatia-Sebastia-Shengavit, Ajapnyak-Arabkir teams were played today. The team of Malatia-Sebastia won the semifinal with а score 2:1 and Ajapnyak's team won the second semifinal with а score 3:0.
As a result, а third place match will be played between the two losing teams of Shengavit and Arabkir and the teams of Malatia-Sebastia and Ajapnyak will meet in the final. The winner will be awarded with RPA Cup.