News
Woman in politics
15.11.2017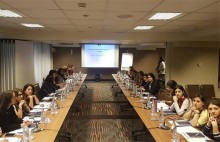 Members of territorial organizations of RPA Youth organization participated in a seminar organized for women by Konrad Adenauer and Eduardo Frei Foundations at Hyatt Place Yerevan hotel. Female representatives of 8 political parties of the Republic of Armenia were involved in the program.
The program is aimed at proper and effective organization of women's activities in politics. Within the framework of the two-day program the Armenian and Dutch moderators discussed the role and involvement of women in politics, spoke about challenges during political processes, as well as about their positive and negative aspects.
The trainers represented involvement of women in the RA governing bodies and statistics of recent years. International experts organized political games in order to develop political skills.