News
Members of the Youth Organization of United Russia Party met with political scientist Alexander Iskandaryan
02.12.2017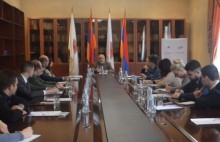 Today at RPA central office members of the Youth Organization of the United Russia Party and their colleagues from RPA YO held a meeting with political scientist, Director of Caucasus Institute Mr. Alexander Iskandaryan.
The political scientist, welcoming young people, underlined that two peoples have centuries-old friendly relations. The speaker touched upon Armenian-Russian economic and political relations, geopolitical peculiarities of Armenia, relations with neighboring countries, peaceful settlement of the Nagorno-Karabakh conflict, as well as signing the Comprehensive and Enhanced Partnership Agreement between the Republic of Armenia and the European Union.
At the course of the meeting the speaker answered the questions of the members of Youth Organizations of the United Russia party. At the end of the meeting the participants expressed gratitude to Mr. Iskandaryan for his comprehensive and interesting lecture, underling the role of Armenia as a strategic partner of the Russian Federation.
Members of Youth organization of the United Russia party are in Yerevan at the invitation of RPA youth organization. They arrived in Armenia on the occasion of the 25th anniversary of the establishment of diplomatic relations between the Republic of Armenia and the Russian Federation. The aim of the visit is to strengthen co-operation between two organizations.