News
Regional event dedicated to the 30th anniversary of Artsakh movement
06.03.2018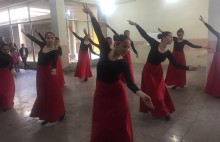 Artashat Major Karen Beniaminyan, principal of the above mentioned center Ashot Hovhannisyan and Head of the Regional organization of RPA of Artashat Gagik Beniaminyan, as well as representatives of the Volunteer Union Yerkrapah were present at the event.
A tribute was paid to the heroes of the movement and words of gratitude were addressed to the freedom fighters.
Inspiring and nice speeches about Artsakh liberation struggle were made by the pupils of the center.
In the end of the event Gagik Beniaminyan made a speech calling on everyone to use every effort to develop and strengthen our homeland.