News
Executive Body of the Republican Party of Armenia to nominate Serzh Sargsyan's candidacy for the position of the Prime Minister
11.04.2018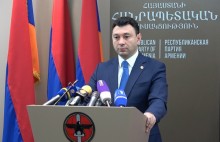 The Republican Party of Armenia will nominate party leader Serzh Sargsyan's candidacy for the post of RA Prime Minister.
"The Republican Party of Armenia (RPA) has started discussions related to the prime minister. The discussions were held in a solidarity atmosphere. Everyone accepted the proposal made by the acting Prime Minister Karen Karapetyan on the eve and we will present the Prime Minister's candidate on Saturday to the Executive Body during the session of the RPA Board. It is known who will be the candidate, the Chairman of the party Serzh Sargsyan. The name of another candidate has not been mentioned," - party spokesman Eduard Sharmazanov said after the session.
At today's session members of the Executive Body of the party summed up the results of 10 years of Serzh Sargsyan's officiating and expressed an opinion.

"It is hard to underestimate Serzh Sargsyan's contribution to the strengthening of Armenia. There will be an opportunity, and we will refer to those 10 years and present the achievements in all spheres. These 10 years have been complicated, but at the same time years of statehood and security strengthening. It is obvious that the 2008 Armenia and the 2018 Armenia will be different in terms of democracy development, security strengthening, human rights protection, foreign policy initiatives, and the principle of self-determination in the Artsakh issue," - Sharmazanov noted, adding that shortcomings have also been.
"We have also discussed the activities of Karen Karapetyan's government for 1.5 years. We express gratitude Serzh Sargsyan for the activities aimed at the development of state and nation, as well as express gratitude all the members of the government and, in particular, Karen Karapetyan for the results of these 1.5 years," - Sharmazanov emphasized.
Touching upon the using smoky substances by the deputies of the faction "Way Out" in the National Assembly, Eduard Sharmazanov stressed that the RPA will not be provoked, but will carry out its work very calmly and seriously.
"This is not only an unfinished show, but it also applies to all their initiatives in general. If anybody thinks that the authorities and the Republican Party should be given provocations and we will respond to their actions, they should understand that we have so much political maturity, seriousness that we will never choose an adventurous way and respond in the similar manner. We have assumed responsibility before our citizens for governing the country and we are ready to take that burden and continue. If some want strong shakes, we need strong, democratic, national and united Armenia," - the RPA spokesman said.