News
RA National Assembly Faction of the RPA will officially nominate the candidacy of Serzh Sargsyan
14.04.2018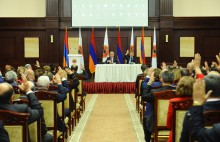 The session of the RPA Executive Body and Board was held in Tsaghkadzor on April 14 today.
By the proposal of First Vice-President of the party Karen Karapetyan the Executive Body made a decision to submit the candidacy of the Chairman of the party Serzh Sargsyan for the post of the Prime Minister of Armenia to the RPA Board. The RPA First Vice-President Karen Karapetyan has presented the decision of the Executive Body. The Board discussed the issue and unanimously supported the candidacy.
On April 16, the Republican Party of Armenia (RPA) faction will officially nominate Serzh Sargsyan's candidacy for Prime Minister.