News
RPA won't nominate candidate for PM
28.04.2018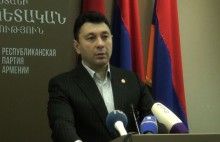 The Republican Party parliamentary faction will not nominate a candidate for Prime Minister, RPA spokesman Eduard Sharmazanov said on April 28, presenting the statement on behalf of the ruling party.
Sharmazanov said the Republican Party will discuss the programs of all candidates and will present its stance until voting.
MPs of the Republican Party faction of the Armenian parliament had a meeting with third President of Armenia, President of the HHK, the ruling party, Serzh Sargsyan and acting Prime Minister Karen Karapetyan.
HHK spokesman Eduard Sharmazanov said at an April 28 press briefing that the agenda of the meeting included the current domestic political situation and the ruling party's participation in the upcoming May 1 PM election.
"Taking into account the domestic political situation, RPA has always said that its priority is state interest, the fatherland's interest, the security of Armenia and Artsakh and domestic stability. Guided by these challenges and priorities, the RPA decided that the RPA faction of the National Assembly will not nominate a candidate for Prime Minister," Sharmazanov said while presenting the party's statement.
According to the RPA spokesman, the ruling party will discuss the programs of all candidates and will present its stance until the voting.
"A political situation has changed, there is a political crisis in the country. There are new realities in Armenia and not once have we said that our priority is not the interest of the party but the interest of the state. We are guided by the "With my party, but for my nation" principle. When the Republican party was being founded under the leadership of Ashot Navasardyan, afterwards Andranik Margaryan, Vazgen Sargsyan, the political fathers of our party, the founders didn't bequeath us with the [party-addiction] idea. They bequeathed us the idea of statehood-building and pro-statehood," he said.
The Republican Party of Armenia is one of the most important pillars of the independent Armenia's statehood. "Pillar of independent statehood doesn't mean that you always have to be in power. The interest of the state if above all for us, we can't lead our fatherland towards shocks. We don't need powerful shocks, we rather need a powerful Armenia. This is a conscious decision, which is based on domestic stability and the security of Armenia and Artsakh," Sharmazanov said.