News
Members of the Youth Branch of the RPA participated in the Academy of Leaders
02.07.2018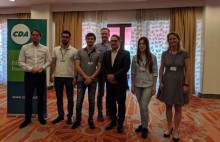 From June 29 to July 1, members of the Youth Branch of the Republican Party of Armenia (RPA) participated in the program "Academy of Leaders in Armenia" in Tsaghkadzor. It was initiated by the Konrad Adenauer Foundation in Armenia. The organizers of the academy are the Dutch Liberal Party, Max van der Stöll Foundation and the Eduardo Frey Foundation.
Young members of 9 political forces of Armenia participated in the program.
Within the framework of the program, international experts presented the political fundamental values ​​and ideologies, held seminars, and made political SWOT analyzes with young people. Participants mastered the peculiarities of communication, negotiation, debate, and the development of political messages through group work.
At the end of the program the participants received qualification certificates.