News
Statement of the NA RPA Faction
30.07.2018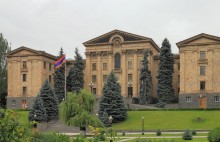 The Faction of the Republican RPA of the National Assembly, having familiarized with the charge and decision on arrest in the framework of the criminal case initiated against the second President of the Republic of Armenia, the first President of the Artsakh Republic Robert Kocharyan, declares:
• This process has nothing to do with democracy, the rule of law and the independence of judicial power.
• The case will deeply hurt the internal political developments in the Republic of Armenia.
• In such a groundless accusation, public split trends are encouraged, which are becoming more and more dangerous in the face of the alarming challenges facing Armenia and Artsakh.
• The criminal proceedings are problematic in terms of legality, especially in terms of constitutionality, which can lead not only to the violation of human rights and fundamental freedoms but also to reduce the reputation and ranking of the Republic of Armenia in international, including legal instances.
• The Special Investigation Service of the Republic of Armenia, the RA Prosecutor's Office and the courts of the Republic of Armenia are obliged to properly ensure the provisions of the RA Constitution and be guided exclusively by the requirements and regulations of the RA Constitution, RA laws and international treaties.
• The RPA faction will also raise this issue and developments around it through parliamentary diplomacy pipelines, relevant international platforms and formats.
Republican Party of Armenia faction