News
Meeting with Angela Merkel in the Framework of CDU Junge Union Congress
17.10.2018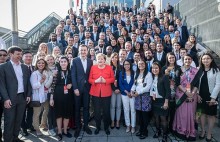 The annual CDU Junge Union Congress of the Christian Democratic Union of Germany took place in Kiel, Germany.
Youth Organization of the Republican Party of Armenia was represented at the congress by Lilit Beglaryan and Arusyak Poghosyan.
This year, the Congress hosted more than 120 guests from different political forces around the world.
German Chancellor Angela Merkel was also present at the event.
Participants held meetings with high ranking German officials and leaders of the Christian Democratic Party.
During the congress, Paul Ziemak was re-elected president of the organization.