News
Women and Politics: Members of the Youth Organization of the Republican Party of Armenia were in Beirut
31.10.2018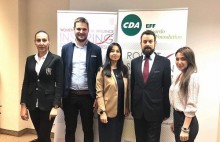 On October 27-30, members of the RPA Youth Organization participated in the program "Women and Political Influence" held in Beirut, Lebanon.
Young politicians from four Armenian and Lebanese parties participated in the program organized by the Robert Schuman Institute and the Eduardo Fray Foundation. The delegates of the Republican Party of Armenia were Lilit Beglaryan, Varduhi Sargsyan and Anna Mkrtchyan.
According to Lilit Beglaryan, non-formal political education is necessary for young politicians to develop their skills and enrich knowledge.
Formation of political agenda, dialogue, promotion of political image, effective presentation within the party. Famous public and political figures shared their experiences and delivered lectures on these topics. Besides, young politicians also held discussions in a round table format.
In Anna Mkrtchyan's opinion the program has become an additional platform for women to engage in politics, discuss issues and find solutions.
"It was a platform where the political situation in Armenia and Lebanon and the possibilities given to women in this sphere were discussed," - Anna Mkrtchyan said.
The expectations from the program are justified also for the other participant Varduhi Sargsyan.
"It was important to hear new approaches to teamwork, political communication, as well as personal political branding. I got new information and skills that I will apply on practice in my political activities," -said Varduhi Sargsyan.
As a result of the effective cooperation of the RPA Youth Organization and Robert Schumann Institute, members of the Youth Organization participate in a number of international projects, acquire skills. Communication with young politicians from other countries is an excellent opportunity to share experience.