News
Digital Revolution and Evolution: Representatives of the Youth Organization of the RPA Participated in the 12th Conference of YEPP
05.11.2018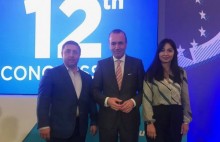 The 12th conference of the Youth Organization of the European People's Party (YEPP) took place from 1 to 4 November in the capital of Greece, Athens.
Head of the Youth Organization of the Republican Party, member of the RPA faction at the National Assembly Karen Avagyan and Lilit Beglaryan, Head of the RPA External Relations Committee, represented the RPA at the conference headed "Digital Revolution and Evolution: Europe's duty is to lead".
Famous state and political figures, including the leader of the "Neo-Democracy" party, made speeches at the conference.
Within the framework of the conference, the delegates discussed a number of issues related to democracy and e-governance in the digitalization era in which Europe has a leading position.
The agenda also included the election of the YEPP Council and the new Financial Supervisory Board. At the vote of 175 delegates from 33 countries, representative of Portugal Ana Lidia Pereira was elected Chairman of the Board, and Aileen Lynch, delegate from Ireland, was elected Secretary General.
By the way, for the first time in the history of the organization, the board is headed by a woman.
YEPP is the largest youth organization in Europe, with more than 1.6 million members from 64 youth organizations in 40 European countries. RPA has joined the European political family with a history of 21 years in 2015.