News
Congratulatory Message by Third President of the Republic of Armenia Serzh Sargsyan on Armenia's Independence Day
21.09.2020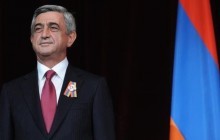 Dear compatriots,
I cordially congratulate you on the Independence Day of the Republic of Armenia
For almost three decades now, we have been building our independent statehood, which was dreamt of by all Armenians and became the expression of the united will of the people of Armenia. Prone to unspeakable trials, our collective will grew stronger as it went through war, blockades, socioeconomic difficulties, in the face of which our people did not back down for a second.
On September 21, 1991, the Armenian nation was given a historic opportunity to restore its sovereign statehood, which even today, in the 21st century, is not available to all peoples. Independence implies great responsibility before the generations who are fortunate enough to inherit a free and independent state.
Building, strengthening and defending our sovereign statehood is the duty and responsibility of each of us. For almost three decades, we defied many hardships, laid our statehood on a solid foundation, created proud armed forces, viable state institutions, a powerful security system, and became a full-fledged entity of international law. By establishing a strong statehood amid external challenges, we became the guarantor of the security of our brothers and sisters in Artsakh.
Of course, there were inevitably mistakes and omissions on that difficult path. However, one thing is clear: no nation can succeed without continuity in state policies and institutions. Breaking them down and starting from scratch can lead to irreversible consequences.
I wish that the full awareness of civic duties could make us approach with a sense of high responsibility the sacred mission of state-building. We are bound by duty to safeguard our ethnic values, which are the guarantor of our identity, our independence.
Today the entire world and our region are facing new challenges that cannot be defied successfully unless we all rally around the national goals. We have to oppose a united front to destructive anti-national phenomena and develop our statehood through daily hard work.
Congratulations again on the cherished holiday of Independence Day!
May God protect our homeland and the Armenian nation!