Speeches
Serzh Sargsyan's pre-election speech in Artashat
04.02.2013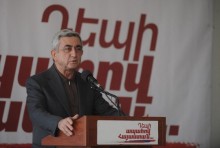 Dear compatriots,
I am grateful to you for being here. To tell the truth I don't think that it's your duty to come here today. It was my duty to come to the same square to ask for your vote of confidence in order to be able to continue implementing important programs for the development of our country. We continue our pre-election meetings and will continue to present our programs to people, programs which are designed thoroughly and completely.
Our aim is SECURE ARMENIA, which should have free and educated society. This demand of the times is obvious. Our vocational education will be free. Children from socially vulnerable families will be provided with free higher education. New kindergartens will be built and schools will be renovated in regions, including in Ararat region. Each first former will receive a computer. Schools will be provided with high-quality Internet.
Dear compatriots, these are not only kind wishes. These are concrete steps which are consistently implemented by authorities. These words are based on concrete deadlines and real opportunities and we know what we can do and what we can't. Our actions will be efficient both in the sphere of education and science and will unavoidably bring to formation of new more informed and mature society.
Despite his willingness, no president of Armenia can guarantee real democracy without having support. We strengthen that support by our activity in the spheres of education, science and culture. Only in that case democratic processes will be continual.
Good or bad authorities are formed by you. Only free Armenia can be SECURE ARMENIA.
Free from violence and illegality
Free from discriminations in law and justice
Free from censorship and inquisition
Free from empty promises
Dear compatriots,
We need convincing victory in the coming elections, the most convincing one we have ever had. Please, remember about the importance of each vote. Remember that your vote is a power against poverty, corruption, migration. It's a power against all adventurists who think they can threaten us. We will not allow.
I am sure that it's possible to overcome all the difficulties in our country. I am sure that we will not lose the historical moment to achieve Armenia of our dreams.
I am more than sure that on February 18 we will organize and hold such elections the benefit of which we will reap later. We extremely need such kind of elections. I am very grateful to you for being here.
Thank you for attention.
I wish you every success.