Speeches
Serzh Sargsyan's speech in Arabkir administrative district
07.02.2013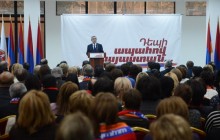 Dear residents of Arabkir,
I am happy to see you.
We have a few days left to take part in the elections and as close are the elections as more is the tension, which is natural for the election process. The pre-election campaign is rather competitive; nevertheless, it is wonderful that it doesn't turn into a battle of life-and-death. We have witnessed strained pre-election situation and I would not like to witness such tension again.
I am happy that feedbacks concerning pre-election process are mainly positive. We are witnessing new campaign both by its content and format. January 31 shootings might turn everything upside-down, but didn't, and elections returned to its natural process.
In my opinion each presidential candidate should realize that elections are not the main goal or event of his life. The world isn't limited with it. Both the latest parliamentary and local self-government bodies' elections were organized well. Presidential race must be carried out in such a way to cause less inconvenience to citizens. As for the opinion that elections are not interesting, I can say that it is good that elections are not interesting for people. Elections are not a film or performance or football match to be interesting, it's a political event which defines the future of the country.
Dear compatriots, we will be able to do much more as our nation deserves much more. We will build indeed secure Armenia, but we cannot achieve a serious goal just by speaking of it or praising our programs. We must change ourselves and our steps. We must develop our country using obvious, as well as undiscovered opportunities. Being a state servant or a member of the Republican Party of Armenia is a great responsibility. We have succeeded in breaking some stereotypes but it isn't enough. To have power means to serve to the nation.
Our compatriots are often disappointed in officials because of their irony, carelessness and injustice. Nation which gave birth to Mkhitar Gosh who had shared formula of justice with the world has no right to be disappointed.
Dear residents of Arabkir,
Arabkir has its unique role in our capital and today it has become more comfortable and attractive. Nevertheless, it has some problems which require special attention. It's impossible to solve serious problems without active participation of citizens. Your activity is the most important pre-condition.
Deputies elected by both proportional and majoritarian electoral systems must also be well-aware of these problems. I think that the role of our deputies must be highlighted. They must represent the citizens' interests at the National Assembly and solve problems adopting laws.
Many people think that presidential election is a one day process and that it is possible to choose president without pre-election campaign. They just don't acknowledge that elections are just the final concluding phase and real elections start from formation of the team and party, participation in parliamentary elections and elections of Local Self-Government Body. How can a person become a president without the support of its team?