Interviews
Artak Zakaryan's interview to the site atv.hu of Hungarian ATV News Channel
22.09.2012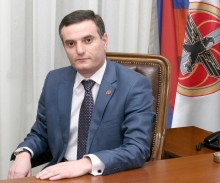 Dear Mr. Zakaryan!
I am the foreign news editor of atv.hu, the internet site of the leading Hungarian ATV News Channel. I would highly appreciate, should you - as the Chairman of the Standing Committee on Foreign Relations of the Armenian Parliament comment us on the following questions.
Q. First of all, please comment us, what is your opinion on Hungarian Foreign Minister's latest letter, where he argues, that the transfer of Ramil Sahib Safarov to Azerbaijan was not aimed against Armenia and it CANNOT be considered as an insult to the Armenian people. In this letter he added that the transfer of Safarov was "in line with effective international regulations" and Hungary's practice in similar cases. Martonyi insisted that the transaction had been "purely of a legal nature."
Honourable Mr. Molnar,
A. I would like thank you for the interview request on such a sensitive topic not only in Hungary and Armenia, but matter of concern for the whole international community. Unfortunately what happened on the last day of the summer as a result of a disgceful secret deal of authorities of Hungarian and Azerbaijani authorities, you see yourself what kind of unpleasant surprise was made for the civilised world. In democratic countries you can never meet such a hoorible glorification a murderer. From the legal point of view the trasnfer might be in accordance of international regulations, but Hungarian authorities had also a responsibility not to do that under their promises to Armenia. As it was revelaed later, Prime Minister Orban – the troublemaker knew in advance that Safarov was going to be released and glorified. And what he got? Condemning statments, criticisim of international community and one prove that he is not a reliable partner, his step caused anger not only in Armenia and Hungary, but all over the world, he caused suspension of relations with Armenia, a country sons of which fought and lost their lives for Hungary. Martonyi's statnce could not be different from PM's one. But the reality is different.
Q. His comments seem to contradict the PM's stance, though, since Viktor Orban said this week (on Tuesday) that he himself had made the decision to hand over the Azeri axe murderer to his native Azerbaijan, and the ensuring events had NOT been UNexpected. Orban told a press conference that "nothing happened after our decision we did NOT expect."
A. That is waht I'm saying. PM Orban admitted he knew what was going to happen and, never the less, they did it, and are sharing their part of responsability. The worst thing is that Hungarian government violated and trampled the decision of judicial power by setting a brutal murderer free.
Q. Also, the Armenian lobby is one of the most powerful lobbies in the United States. There are Hungarian experts who say, this can affect and affect seriously the American-Hungarian relations, since the Armenians are more active in the US. Do you think, or do you see it a real possibility, that they would start a campaign against Hungary to revenge the Safarov case?
A. Under Prime Minister Orban, Hungary had and has serious problems with the civilized world, its own allies, and this step is another one that is witnessing the unadequate behavior of PM Orban the troublemaker As for the the Hungarian – American relations, I'm not in a position to comment on them, but certainly the strong condemning messages form President Obama and State department that came up on the same day are speaking for theirselves. By ths step Hungarian Government had contitributed to the destructive efforts of Azerbaijani authorities, aimed at the harming and impeding the efforts of OSCE Minsk Group Co-chair countries (US, Russia and France) on the peaceful resolution of conflict between Azerbaijan and Nagorno-Karabakh. And this destructive approach must have consequences for these who initiated and perpetrated it.
Q. And the last, but probably the most important question: by the comments of our MFA and PM it seems Hungary is "not prepared" to apologize the Armenian people. Do you believe the conflict between our two nations can quit down without a formal apology from our side?
A. For centuries Armenian people had warmest feelings towards Hungary and its people, which give a shelter became second home for number of my compatriots, who fleed form the Genocide in the beginning of 20th century., as I told earlier number of Armenians were prominent figures in Hungary, and now Armenian Diaspora is contributing to the development of Hungary. After this outrageous act, Armenian Embassy received thousand support and regret letters from Hungarians, and we appreciate that very much. I believe that sooner or later we will reestablish full fledge relations, but better sooner than later, but for this we expect concrete steps from the Hungarian Government in order to rebuild trust, which was lost after shameful step Hungarian PM. Apology could be one of those steps.
Q. Do you have any new legal, political steps in your mind to confront Budapest's decision?
A. We are considering several ways of legal actions, and after careful examination, I guess Armenian side will initiate them.
Thank you so much for taking time and answering!
L. Molnar
Atv.hu
Foreign affairs editor