News
Vazgen Sargsyan
05.03.2012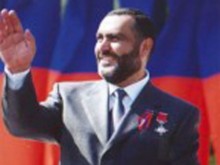 March 5th is Sparapet Vazgen Sargsyan's birthday. Today he would have turned 53 years old.
The desire to have an independent and democratic Armenia forced Vazgen Sarkisian, a writer and publicist, to take up arms and struggle for the implementation of the national dream. "Today we need not just soldiers but warriors with indomitable spirits ... And the century will be ours".
This was Vazgen Sargsyan's battle cry addressed to his nation, friends and Yerkrapah volunteers in fateful for the Armenian people days.
Vazgen Sargsyan's birthday is another opportunity to look back and recall his invaluable contribution to building the future of the Armenian people. Vazgen Sargsyan has made an inestimable contribution to the victory in Artsakh liberation war and to protection and strengthening of Armenian borders. His role in the creation of the National Army and in the formation of the Armenian statehood is undeniable. As a token of gratitude for service to the fatherland and nation V. Sargsyan was given the honorary title of Sparapet.
Vazgen Sargsyan graduated from Yerevan Institute of Physical Education, and later, in 1986-1989, led the publicity department of "Spring" magazine.
1990-1995 - was a member of RA Supreme Council. 1990-1992 - Chairman of RA Supreme Council Standing Committee on Defense and Interior Affairs.
1990-1992 - was the commander of "Yerkrapah" volunteer group. 1991-1992 - First Secretary of Defense.
1992-1993 - was RA President Defense Advisor, RA President special representative in the border areas, and since1993 - Chairman of Yerkrapah" Volunteer Union.
1993 -1995 - was RA Minister of State for Defense, National Security and Internal Affairs.
Being guided by the idea of national unity and the establishment and strengthening of independent statehood, accepting RPA ideology and based on common political positions, in 1998 V. Sargsyan initiated "Yerkrapah" and "RPA" joint political activity by including the political part of "Yerkrapah" in RPA composition and headed the Republican Party of Armenia.
In 1999 V. Sargsyan co-chaired "Unity" Alliance created by the Republican and Democratic parties. The same year he was appointed RA Prime Minister.
Vazgen Sargsyan was awarded with "National Hero", "Hero of Artsakh" and "Golden Eagle" RA Orders and with the title of Knight.
He was a member of USSR Union of Writers and Writers' Union of Armenia, Armenian Komsomol Prize winner in Literature.
Vazgen Sargsyan was RA Prime Minister from June to 27 October 1999, before the terrible terrorist attack in the National Assembly of the Republic of Armenia.
In 1999 he was posthumously awarded the title "Hero of the Republic of Armenia".
Today we have an independent State and strong statehood, which are initiated by people loyal to our country. People, who paved for us the way to the future. Glory to these Heroes!