News
Tribute to the memory of victims of the Armenian Genocide
24.04.2012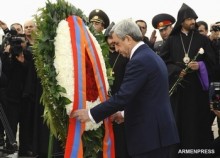 The highest leadership of the Republic of Armenia, headed by the President Serzh Sargsyan, paid tribute to the memory of the innocent victims of the Armenian Genocide committed in the 1915 by the Ottoman Empire.
His Holiness Catholicos of All Armenians Karekin II conducted the spiritual service, and all the officials bowed their heads and with one minute of silence respected the memory of the 1.5 million Armenians.
Representatives of the legislative and executive bodies, highest officer staff of the Armed Forces, political figures, intellectuals, ambassadors accredited in Armenia came to the heights to Tsitsernakaberd.
In all the Armenian regions, communities in different countries Genocide commemoration events are being held. Call of protest is voiced against the policy of denial of Turkey. The international community is urged to recognize the gravest crime of the 20th century with it preventing the repetition of genocides. Requiem services are conducted in the all the dioceses of the Armenian Apostolic Church.
The Tsitsernakaberd memorial opened in 1967 November 29. For more then four decades it receives Armenians and foreigners who come to pay tribute to the victims of Meds Yeghern. Documentaries about the tragedy are kept in the Armenian Genocide Museum opened in 1995.