News
Taron Margaryan: We have achieved success in numerous programs of cooperation with European organizations-partners
17.06.2016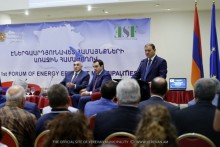 Mayor Taron Margaryan together with the RA Minister of Territorial Administration and Development David Loqyan and the representative of the head of EU delegation in Armenia took part in the reception-presentation of the program "Covenant of Mayors East II" and the union of energy efficient cities of Armenia which took place within the scope of the first forum of energy-efficient communities organized by the Union of Communities of Armenia and the Fund for energy efficiency development. The program which is to be realized in EU Eastern Partnership countries provides for potential development of the cities signed the Covenant, financing and loaning of Sustainable Energy Action Plan, attraction of new cities.
In his greeting speech Mayor Taron Margaryan stressing the particular importance of similar projects stressed that climate changes and energy safety are the primary challenges.
"In this issue local authorities are one of the main participants of sustainable energy policy. I am sure that you will agree that very often the most effective programs are implemented on the local level as local authorities are well aware of the problems of the citizens which require urgent solution. And it's obvious that communities must have the possibility to have influence in the fields they are responsible for", stressed the Mayor.
It should be noted that the Union of Energy Efficient Cities of Armenia was established on February 26, 2016 by the decision of the Republican Council of the Union of Communities of Armenia.
Presenting the programs implemented in Yerevan Mayor Taron Margaryan noted that like many other cities Yerevan takes concrete steps to create urban environment where energy efficiency will be the priority direction.
"Taking into account all this and realizing the responsibility of the capital as a big energy consumer, today Yerevan is implementing the programs aimed at energy saving in various spheres of urban economy. We have joint the EU project "Covenant of Mayors" and whit our powers we took the responsibility to reduce greenhouse gas emissions at least by 20% by 2020 and to ensure urban economy development. With this aim Sustainable Energy Action Plan for Yerevan was worked out. I have to outline that we attach particular importance to joining European initiatives and to tight cooperation with European organizations as a result of which we have already achieved success in the implementation of a number of projects", said the Mayor.
Wishing good luck and successful teamwork to the participants of the reception-presentation of the program "Covenant of Mayors East II" and the Union of Energy Efficient Cities of Armenia, Yerevan Mayor expressed confidence that due to effective cooperation and joint efforts of the Armenian communities, European partners and assisting organizations significant results will be achieved in relatively short time.