News
Taron Margaryan: "It's our duty and another step to support the families of our servicemen"
29.06.2016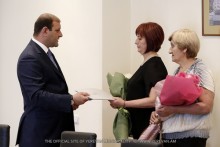 Yerevan Mayor Taron Margaryan handed the keys to a new flat to the family of fixed-period serviceman Grigor Harutyunyan fallen at the front line at the beginning of this April.

"The President of the Republic offered to allot flats to the families of those servicemen who had housing problems and defended the borders of our homeland at the cost of their life. Recently the Council of Elders of Yerevan unanimously has made a decision to provide your family with a flat. It's our duty and another step to support the families of our servicemen. We are grateful to you for your sons. Eternal glory to our heroes",said the Mayor.

Taron Margaryan assured that Yerevan Municipality within its powers will go on showing support to the families of the servicemen fallen and wounded at the front line
Having received the keys of the flat the members of Grigor Harutyunyan's family accompanied by the persons in charge of the Municipality visited their new flat and familiarized themselves with the conditions.