News
Prime Minister Travels to Gegharkunik Marz
03.08.2016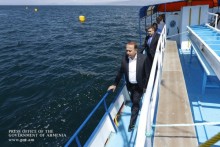 Prime Minister Hovik Abrahamyan paid a working visit to Gegharkunik Marz of Armenia, The Premier first called at Karchahpyur village to get familiar with fish farm development and Lake Sevan trout populations rehabilitation program activities. In particular, Hovik Abrahamyan was shown five sizeable fishing nets, into which 32 tons of fish fry had been released. Seven more nets will be set up in the near future to host fry fish of Gegharkuni and Summer Trout species.
The Prime Minister's next port of call was the fish processing plant of Karchahpyur, where he monitored progress in the ongoing investment programs. He was informed that the construction of the plant is nearing completion. Processed fish will be exported to Russia, Georgia and other international markets. The Premier stressed the importance of the efforts toward the restoration of trout fish population in Lake Sevan.
Then Prime Minister Abrahamyan visited Ecomilk cheese factory in Akunq community, where he got acquainted with the production process and plans for the future. Founded as early as in 2005, the factory produces a wide range of different cheeses. Furnished with state-of-the-art modern equipment, Ecomilk Ltd employs 40 people. The Company is going to make additional investment to build up capacity and expand the range of its output. Welcoming the idea, Hovik Abrahamyan said the Government will discuss the possibility of supporting the initiative.
The Head of Government left Akunq for Martuni where he visited the local medical center and the maternity hospital. Hovik Abrahamyan inspected the amenities, after which he instructed the heads of relevant government departments to discuss the possibility of improving the conditions in these institutions.
The Premier's last port of call was Gavar town, where first called at Hatsarat community's kindergarten, which needs to be repaired. Hovik Abrahamyan suggested drafting a cost estimate in order to include the project in the State budget bill for 2017. The roof will be renovated by this yearend.
The Prime Minister visited the local drama theater after L. Kalantar to get a firsthand view of the ongoing reconstruction activities. The reconstruction was said to come to completion by this yearend. Note that AMD405 million has already been invested in the project.
In conclusion, the Prime Minister inspected the city park rehabilitation activities, for which AMD120 million had been earmarked.