News
Representative the Youth Branch of the RPA Participated in the Program "Young Leaders 2018-2019"
07.10.2018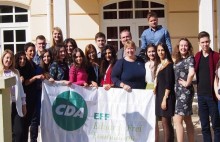 On October 2-6, Budapest hosted the first round of the training "Young Leaders 2018-2019", held by the Robert Schuman Institute, with the participation of 26 young people from 11 countries. Ani Mejlumyan represented the Youth Branch of the Republic Party of Armenia.
The first stage was entitled "Fundamentals of Democracy".
The program included lectures on developing communication skills, seminars on the functioning of democratic institutions, as well as theoretical and practical skills aimed at the development of debating skills.
According to Ani Mejlumyan, the training gives an opportunity to broaden the knowledge of young people representing different political forces in contemporary democracy, active civil society, leadership, nuances of the new media field, as well as to establish contacts with international partners, who have similar political ideology. Throughout the program, the participants have also presented the analysis of the political picture of their countries.