RPA in executive body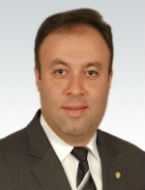 MARGARYAN Karen
Deputy Governor of Kotayk Region, RPA Member
Born on October 14, 1982 in the city of Hrazdan.
1989-1998 – Secondary school N1 of Hrazdan.
1998-2003 - Armenian State Pedagogical Institute named after Kh. Abovyan, devision of TV-Journalism of the faculty of Culture.
2010 - Study Tour and Program on Intercultural Understanding, Training course for PR/Press Officers (USA, State Maryland).
2001-2002 – Primacy of Kotayk Patriarchal Diocese of the Armenian Apostolic Church, Press Officer, Editor of the newspaper "Kecharis".
2002-2003 – Department of Culture and Sport of the Administration of the RA Kotayk marz, leading specialist.
2003-2006 – Press Secretary of the Governor of the RP Kotayk marz.
2006-2008 – Counselor to the Governor of the RA Kotayk marz related to the issues of Press and Public Relations.
2008-2012 – Head of the Department of Press and Public Relations of the RA Kotayk Administration.
2012 – Deputy Governor of the RA Kotayk marz.
2010 – Awarded the RPA Chairman Diploma on the occasion of the RPA 20th anniversary and for party activity.
2011 –Awarded Letter of Appreciation of the RA Prime Minister on the occasion of the 20th anniversary of the Republic of Armenia.
2011 – Granted the classification grade of the 1st class Counselor of the RA Civil Service.
Member of the Republican Party of Armenia.
Married, with one son.